Masters Plastic Surgery
7316 N Classen Boulevard
Oklahoma City, OK 73116
Phone: (405) 849-6354
Monday–Friday: 9 a.m.–4 p.m.

Breast Implant Removal
If you've decided to remove your breast implants—for whatever reason—finding a plastic surgeon with the expertise to perform this technically demanding procedure is important. Dr. Oscar Masters is a board-certified plastic surgeon with years of experience performing complex breast surgery procedures. He is highly proficient in breast implant removal (explant surgery) at his Oklahoma City (OKC) practice.
What Happens During Your Consultation?
Often, the choice to remove breast implants involves mixed emotions, and Dr. Masters approaches the consultation with compassion and empathy about your decision. He spends the necessary time to understand why you want to remove your implants and discusses your expectations and goals. Engaging in an honest conversation during the consultation leads to successful results.
Why Do Women Choose Implant Removal?
Breast augmentation remains one of the most popular cosmetic surgery procedures in the U.S., but the number of women choosing to remove their implants is increasing. There are several reasons women choose this option. Implants are not designed to last forever, and many women who got implants 10, 15, or 20 years ago are opting to remove them rather than replace them.
Other reasons for breast implant removal (also called explant surgery) include:
Changing trends: Some women who chose larger implants that emphasized cleavage want breasts that look more natural. In general, many breast augmentation patients today want a more modest increase in the size of their breasts. Some patients simply have a change of heart about wanting implants.
Lifestyle changes: Someone who opted for breast augmentation as a single woman in her 20s may decide to remove her implants after getting married and having children. Or some women find that an active lifestyle that includes running and working might be more comfortable without implants.
Age: Women's breasts change shape and start to sag with age. The weight of breast implants can worsen the degree of sagging. Implant removal combined with a breast lift can restore the breasts to a more youthful position.
Complications: Conditions such as capsular contracture—when scar tissue around the implant capsule hardens—can lead women to choose breast implant removal. Even though complications are relatively rare when a qualified, board-certified plastic surgeon performs the augmentation, they can occur.
Illness: Some women report a link between getting implants and the onset of various physical symptoms, a condition called breast implant illness (BII). There is currently no scientific diagnosis for breast implant illness, but Dr. Masters respects that some patients believe there is a connection and performs explant surgery for them.
How Is Breast Implant Removal Performed?
Dr. Masters uses different techniques for explant surgery, choosing the approach that's best suited for you. Here are the most common surgical approaches to breast implant removal:
Simple implant removal without capsule removal: Dr. Masters uses this technique when removing an intact implant inside a soft capsule that has retained its flexibility. It involves making an incision where the scar from the augmentation surgery is located. He removes only the implant. This approach involves minimal injury to the breast tissue and muscle, less discomfort, and a faster recovery.
Implant removal with capsule removal: Called a total capsulectomy, this technique involves Dr. Masters removing both the implant and the capsule (scar tissue that surrounds the implant). He starts by making an incision in the breast fold or along the areola's edge. Dr. Masters separates the capsule from the breast tissue, pectoral muscle, and the chest wall. He then removes the capsule either in one piece or in multiple pieces. If he is unable to remove any residual capsule he will cauterize, scrape or cut any residual capsule out. He will then wash the pocket out to ensure no particulate capsule is left behind. If an implant was placed under the muscle, he ensures the muscle is secured back in its normal position before closing the incision. Dr. Masters will send the capsule to a pathologist for analysis. Additionally, he takes photos of the capsules and implants for documentation.
Implant removal with en bloc capsulectomy: An en bloc capsulectomy differs from a total capsulectomy because it involves removing the implant and scar tissue capsule from the breast intact. It is a more technically demanding procedure as it takes extra care to keep the delicate breast capsule intact. Dr. Masters makes incisions along the base of the breast (inframammary fold incision) when using this technique.
Implant removal with en bloc capsulectomy and breast lift: This is the technique Dr. Masters uses most often for explant surgery. After removing the implant and capsule (scar tissue surrounding the implant), he then performs a breast lift using a "lollipop" incision that includes an incision around the areola and another that extends vertically down the breast. He sometimes adds a horizontal incision to the breast fold if needed, which is called an "anchor-style" lift. He restores fullness to the breasts using the patient's own fat that he transfers to the breast. Dr. Masters performs this fat grafting procedure 6 months after breast implant removal surgery.
How Much Does Breast Implant Removal Cost?
The cost of breast implant removal surgery varies depending on the technique used and the extent of the operation needed. When looking for a breast surgeon in OKC, it's important to know the surgeon's training, qualifications, and experience performing explant surgery. Even though the cost of surgery is something most patients consider, you should avoid shopping for a bargain price and consider the level of personal attention you receive throughout the process.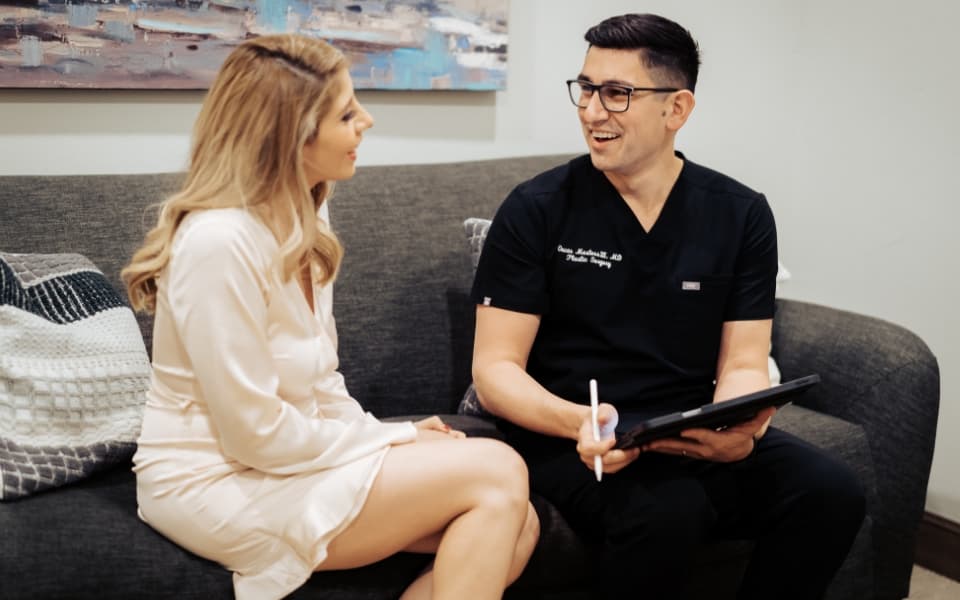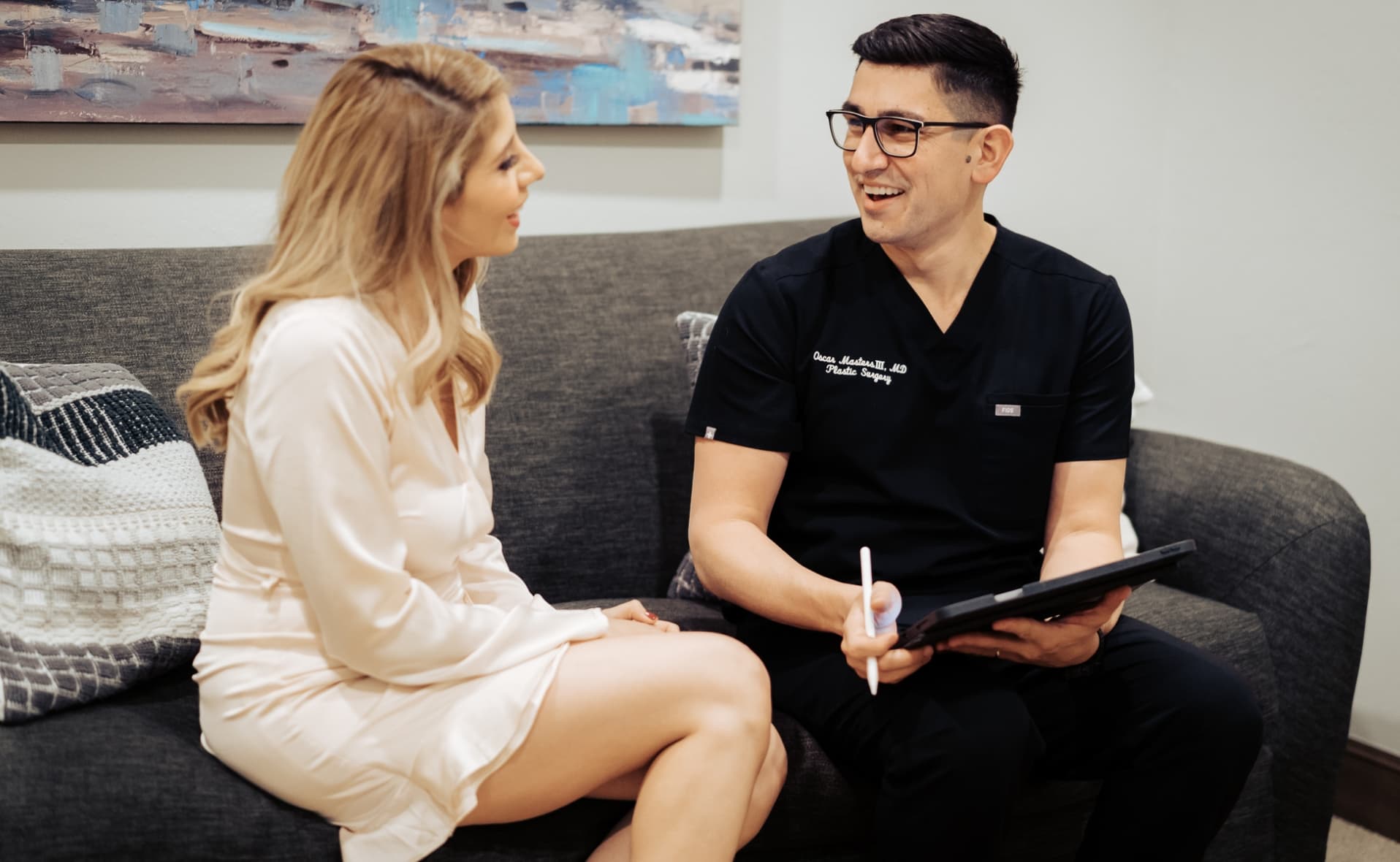 Start with a Consultation
Dr. Masters has the high level of skill you want in a breast explant surgeon. You can meet personally with him to find out if he's the best choice for you by requesting a consultation using the online form or by calling our practice at (405) 849-6354 to schedule an appointment.