Masters Plastic Surgery
7316 N Classen Boulevard
Oklahoma City, OK 73116
Phone: (405) 849-6354
Monday–Friday: 9 a.m.–4 p.m.

Breast Augmentation
Are you considering breast augmentation because you'd like to have fuller, shapelier breasts? Maybe, like so many women, your breasts don't look the same after having children. Your reasons for wanting breast implants are personal, and you want a surgeon you can trust to make your goals a reality. If you're looking for a breast augmentation surgeon in Oklahoma City with the expertise to customize your procedure, Dr. Oscar Masters is an excellent choice.
A board-certified plastic surgeon, Dr. Masters sets himself apart from other surgeons by combining refined technical skills with an engaging bedside manner. He'll spend as much time as it takes getting to know you and understanding your concerns and goals.
Breast Augmentation

Before & After Photos
WARNING:
This feature contains nudity. Please click OK to confirm you are at least 18 years of age and are not offended by such material.
What Happens During Your Consultation?
Beautiful breast augmentation results begin at your consultation, where you meet personally with Dr. Masters. By getting to know you and what led you to consider breast augmentation, Dr. Masters builds a trusting relationship that helps you feel comfortable and reassured. In addition to taking physical measurements to guide your breast implant selection, Dr. Masters also describes the procedure in detail, explains why he uses specific techniques and answers any questions that you may have.
Why Do Women Get Breast Augmentation?
Every woman has her own reasons for wanting breast implants. Some women want to change the shape of their breasts, as well the size. In certain cases, patients want to combine breast lift surgery with implants for fuller, perkier breasts.
These are the most common reasons patients cite for getting a "boob job" at our OKC practice:
Enhance naturally small breasts: Some women are self-conscious about having small breasts and believe fuller breasts will enhance their femininity or balance their figure.
Restore fullness after pregnancy: Breast implants can restore volume lost after having children, but a breast lift may also be needed if the breasts have started sagging. In some cases, women combine breast enhancement surgery with a tummy tuck as part of a mommy makeover.
Improve breast symmetry: Breasts that are noticeably different sizes can make a woman self-conscious. Breast implants are an excellent solution for breast asymmetry.
Additionally, our breast augmentation patients tell us that they enjoy clothing options and bra styles that they couldn't wear before they had their procedure.
Choosing Your Breast Implants
Your choice of breast implants involves more than selecting the size. Dr. Masters uses smooth, round implants filled with cohesive silicone gel. Most people believe silicone gel implants look and feel more like natural breasts than saline implants. More than 85% of breast augmentation procedures use gel implants. The cohesiveness of the silicone gel (the "gumminess") varies, and patients can choose based on their personal preferences.
Other options involved when choosing implants include the:
Height and width of the implant
Profile (how far the implant projects from your body)
Number of cc of silicone the implant contains (volume)
After a lengthy discussion about what you hope to achieve with breast augmentation, Dr. Masters helps guide your choices. He has you "try on" implants during the consultation to help determine the ideal size and profile based on your body, your lifestyle, and your goals.
What Happens During a Breast Augmentation Procedure?
Dr. Masters creates a customized surgical plan for you after discussing all of your options. With extensive experience performing breast surgery, including complex breast reconstruction, Dr. Masters has honed surgical techniques that provide the most benefit for his patients.
Incision Location
Most patients elect to have Dr. Masters make incisions at the base of the breast, where it meets the chest wall. This is called an inframammary incision and provides direct access to where Dr. Masters creates a pocket for the implant.
In some cases, patients prefer having the incision made along the lower edge of the areola (the darker skin surrounding the nipple), which is called a periareolar incision.
Implant Placement
The discussion of where to place breast implants is often limited to either in front of or behind the chest muscle (subglandular or submuscular). Dr. Masters prefers a technique that results in the implant being partially covered by the muscle and partially behind the breast tissue. This "dual plane" approach combines the advantages of both the subglandular and submuscular locations. It reduces the risk of implant rippling in the upper portion of the breast while creating a smooth transition to the lower part of the breast, creating results that look more natural.
Techniques for a Better Breast Augmentation Recovery
The key to a short, comfortable recovery following breast augmentation surgery is the enhanced recovery protocol Dr. Masters follows for each patient.
This protocol includes:
Giving the patient acetaminophen (Tylenol®), anti-inflammatory medication, and nerve pain medication before the patient is taken to the operating room.
Using a local anesthetic just before surgery to reduce the amount of narcotic pain meds needed during and after surgery. This also results in fewer post-operative side effects, such as nausea, vomiting, and constipation.
Minimizing post-op pain with a long-acting nerve block injected into the chest muscle at the end of surgery.
Pre-soaking breast implants in an antibiotic solution to minimize the risk of infection and capsular contracture.
Using a funnel to place the implants: Dr. Masters performs a "no-touch" technique to insert implants without handling them, reducing the risk of infection or capsular contracture.
Breast augmentation patients often recover within a few days of the surgery, experiencing minimal discomfort because of these extra precautions taken by Dr. Masters. We also provide patients with detailed recovery instructions to enhance the process.
How Much Does Breast Augmentation Cost?
The cost of breast augmentation depends on a few factors, including the type of implant selected, the training and experience of the plastic surgeon, and related fees for the operating room and a board-certified anesthesiologist. Even though the cost of surgery is something most patients consider in choosing a surgeon, you should avoid shopping for a bargain price. Choose a surgeon based on their training and the rapport you develop during your consultation.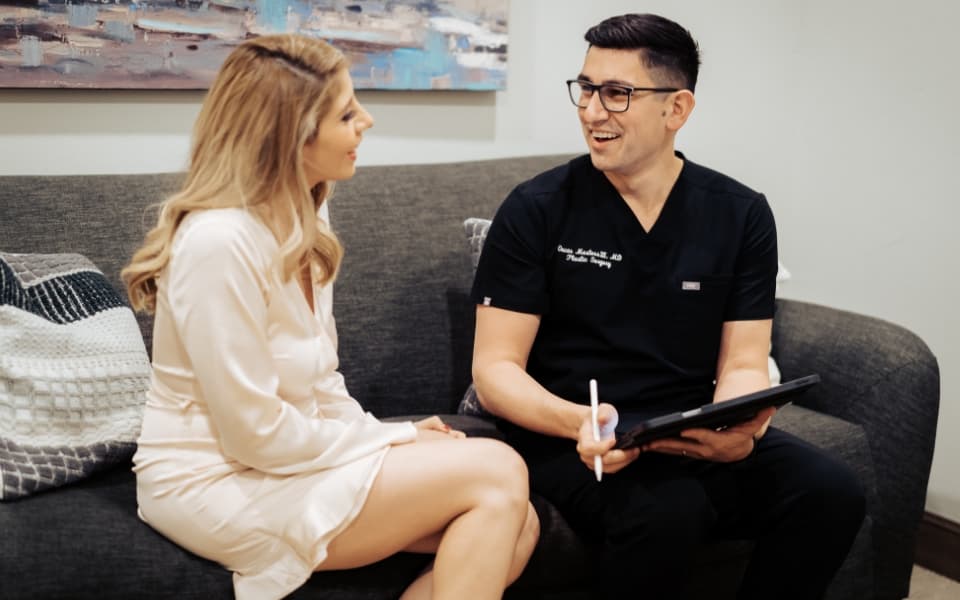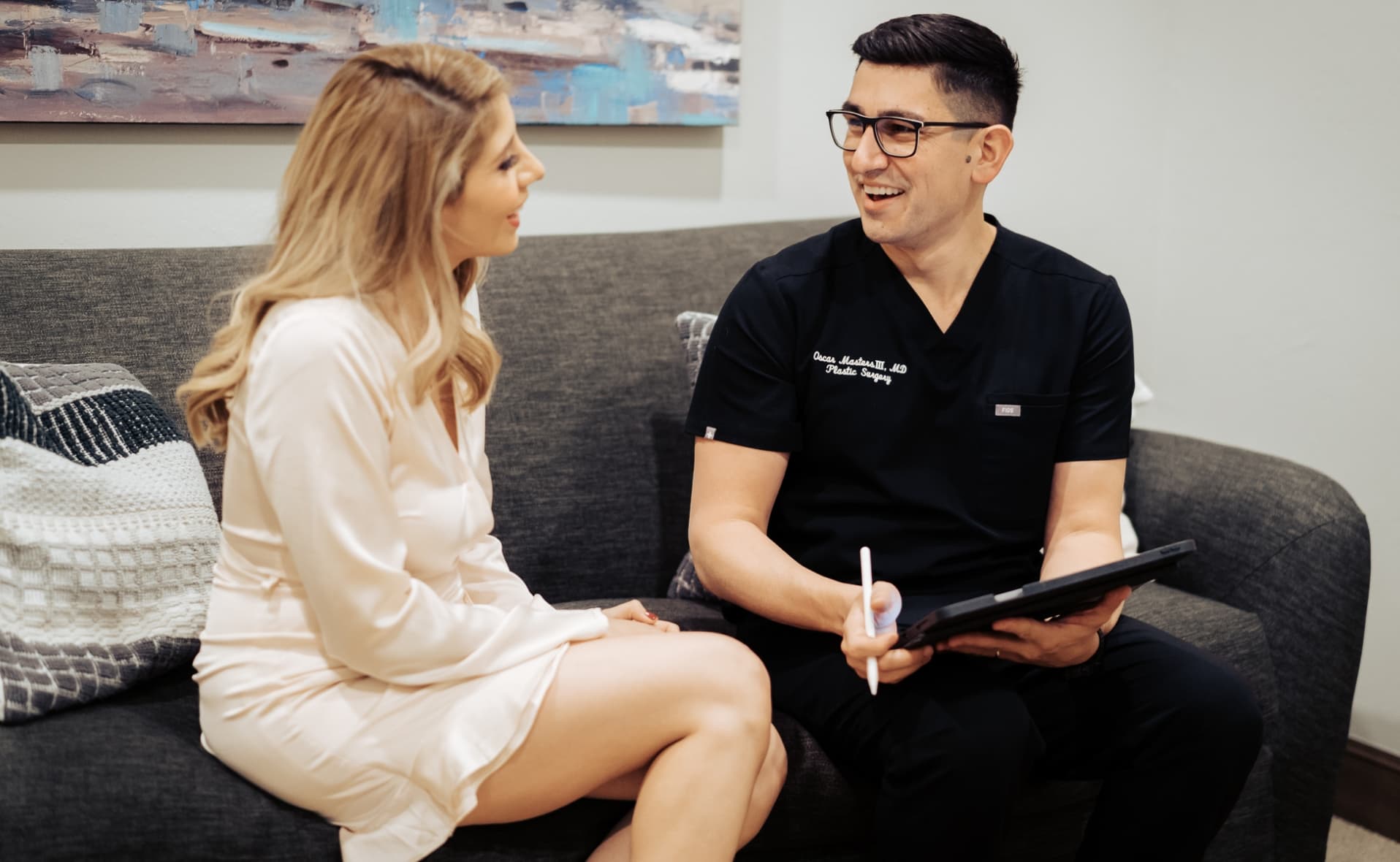 Start with a Consultation
Understandably, if you're considering breast augmentation, you want the best plastic surgeon in OKC. You can meet personally with Dr. Masters to find out if he's the best choice for you by requesting a consultation using the online form or by calling our practice at (405) 849-6354 to schedule an appointment.